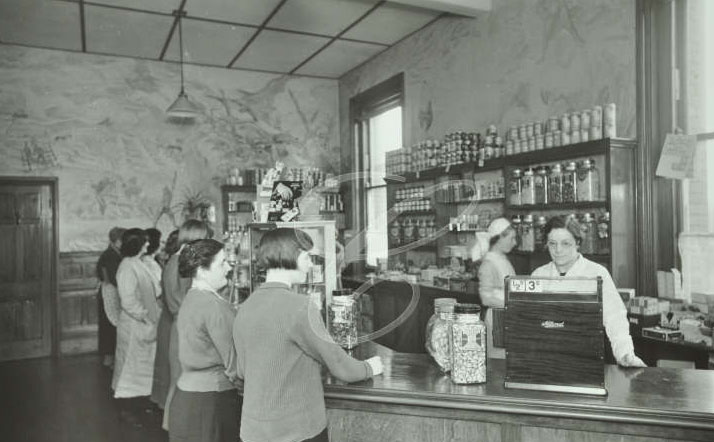 A WRITER researching a new biography of Thomas Hennell has discovered hitherto unknown photographs of a huge lost mural by the artist, which decorated three walls of Claybury Asylum in Essex, where Hennell was treated for mental illness in the mid-1930s.
Jessica Kilburn, whose book is set for publication next year, found the images buried in the London Metropolitan Archives, after following a clue in Hennell's autobiographical account of his illness, 'The Witnesses'. The photographs were taken in 1939, four years after Hennell was discharged and show the walls of the hospital canteen/tuck shop completely covered with Hennell's mural – by far the largest piece of work that the artist ever attempted.
The photographs can be seen here on the Metropolitan Archives website:
http://collage.cityoflondon.gov.uk/collage/app;jsessionid=C8C989E498642E048C47C4B8535A8953?service=external/Item&sp=Zclaybury+canteen&sp=228500&sp=X
In 'Out of the Wood', the final chapter of 'The Witnesses', Hennell describes asking the Medical Superintendent of the Hospital for an opportunity to leave behind him some 'proof of his skill'. Hennell's ambitious plan was to decorate a plaster-domed ceiling in one of the hospital entrances, filling the "domed space with figures on a great scale and large clear masses of colour". The superintendent decided this would be too difficult and expensive and Hennell was diverted instead to the hospital canteen.
The completed design, according to Hennell himself, had one wall showing a landscape populated with children, travellers and men working in fields and another – 14ft by 9ft wide – describing a haymaking scene. Such was the scale of the enterprise that it was difficult to prepare a working plan and Hennell describes the resulting work as "almost an improvisation on the wall".
It is not known whether anything of Hennell's extraordinary mural has survived. The hospital was converted into flats in 1990 by a developer, working in conjunction with English Heritage.